What is Electrical Enclosure?
Electrical enclosures are boxes or cabinets which are used to contain electrical components like knobs, switches, controls and the like, to protect them from the environments, as well as safeguard property and life. The specifications and features are dictated by the National Electrical Manufacturers Association (NEMA), using a Type classification to define the locations and environments they can be used in. This includes four types that are 'explosion proof enclosure', intended for use in hazardous locations.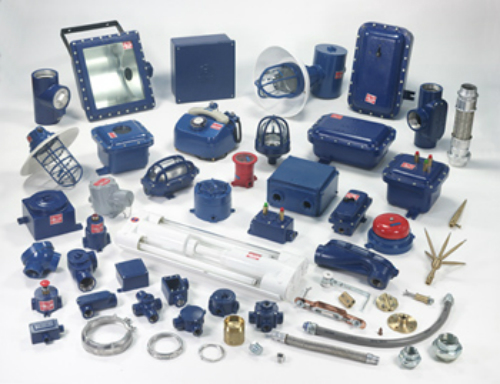 Image Credit:batmsales&services
What is Explosion Proof?
In places where the spark or heat from electrical equipment can cause an explosion or start a fire, the components are housed in purpose-built electrical enclosures, which are called explosion proof enclosures. According to the NEMA, these enclosures do not specifically need to withstand an exterior explosion, rather they are designed to contain an interior explosion and prevent it from spreading outside the enclosure. This prevents an even larger explosion that can damage property and put human life at risk.
Classification of Explosion Proof
NEMA Standards 250-2003 defines hazardous location codes based on both the cause and the nature of the hazardous environment. The division indicates the level of risk of a fire or an explosion, the class describes the classification of the hazardous material (like a fire extinguisher), and the group defines the substance itself.
Beyond the other classifications, explosion-proof enclosures also have a temperature rating. This is the maximum surface temperature that they can safely withstand, before the degree of protection they offer is compromised. These ratings are based on a 40°C ambient temperature, unless otherwise mentioned.
Types of Electrical Enclosures
NEMA recognizes different types of enclosures for equipment, based on the level of protection they provide against environmental factors. These are sub-divided into Non-hazardous and hazardous location enclosure types.
Non-Hazardous Location Enclosure Types
Type 1 Enclosures – General purpose enclosures, only for indoor use. Offer protection against accidental contact with live parts and keep solid foreign objects, like dirt out.
Type 2 – Similar protection level as Type 1, except they offer added protection against water ingress from drips, splashes, etc. These are also generally used in indoor applications.
Types 3R, 3RX –In addition to level protection offered by Type 1 and Type 2, except that Type 3R has a much higher degree of water resistance. Rated for both indoor and outdoor use, they can withstand rain, sleet, snow and other such weather conditions. The addition of the 'X' indicates that the enclosure resists corrosion.
Types 3, 3X –In addition to the protection offered by Type 3R electrical enclosures, these provide higher degrees of protection against wind-blow dust. The "X" designation means the enclosure resists corrosion.
Types 3S, 3SX –These are also resistant to wind-blown dust, rain and sleet. Rated for use indoors and outdoors, they have external mechanisms which can be operated even when the enclosures are ice-laden Type 3SX offer additional protection against corrosion.
Types 4, 4X – Apart from the protection offered by Type 3 enclosures, these can prevent water from splashes entering, and even during wash-downs with hose-directed water. Junction enclosures, wall mount enclosures, floor mount enclosures, freestanding enclosures and disconnect enclosures can be rated for Type 4 locations. Type 4X indicates added resistance to corrosion.
Type 5 – Similar to Type 2 electrical enclosures, but with the addition of a gasket that seals off the enclosure, preventing the ingress of dust, fibers and lint, and flyings. Type 5 enclosures are also rated for only indoor use.
Types 6, 6P – In addition to all the protection offered by Type 4 enclosures, they have much higher water resistance and can be used indoors and outdoors, in locations where they might be submerged. Type 6 can prevent ingress of water from occasional temporary submersion, and Type 6P during prolonged submersion at limited depths.
Types 12, 12K – Rated only for indoor use, Type 12 enclosures offer a very high level of protection against dust, falling dirt, lint, circulating fibers, flyings, drips and splashing water. Corrosion-resistant Type 12 enclosures cannot be knockouts, but Type 12K can. They are available in many forms: Heavy-duty enclosures, junction enclosures, wall mount enclosures, floor mount enclosures, freestanding enclosures disconnect enclosures, modular enclosures, pushbutton enclosures and even consoles.
Type 13 – These general purpose electrical enclosures are only for indoor use and offer the same level of protection as Type 12, along with added resistance to ingress of oils and non-corrosive coolants. These are usually wall-mounted enclosures.
Hazardous Locations Enclosure Types (Explosion Proof Enclosures):Only four NEMA pertain to enclosures rated for hazardous locations
Type 7 Enclosures – These are rated for indoor use in Class 1, Division 1, Group A, B, C or D hazardous locations
Type 8 Enclosures – Enclosures for both indoor and outdoor use in hazardous locations classified as Class 1, Division 1, Group A, B, C or D
Type 9 Enclosures –Constructed for use indoors in hazardous locations Class 2, Division 1, Group E, F, or G
Type 10 Enclosures – These are built to meet Mine Safety and Health Administration requirements under Part 18 of CFR 30For environments that contain more than one type of combustible substances, dual or multi rated enclosures will be needed. In some cases, especially for Type 7 and 9 hazardous locations, a purging or pressurizing can be used in place of explosion-proof enclosures, as long as there is reliable system that meets or exceeds National Fire Prevention Association requirements and safeguards.